Hello all,
So my quest has begun for a new home for my guys, Biff, Chip and Kipper.
This was there previous home, a seriously outgrown rubber maid...
I found a 66 gal custom tank from a closing down fish shop which I picked up for £45, and also got an aqua pro 4 filter (Never heard of it either) which I got for £30, The shop keeper had the filter running on a much larger 8ft tank so I am hoping it will be able to keep my guys clean. we shall see.
This is the tank as i picked it up
so last week I got a sideboard from a neighbour who was getting rid of it. I have strengthened it up (not show in the pic), sanded it down and re-painted it.
This is the stand sanded down, with a new wider top in place to support the tank
This is how they will look together,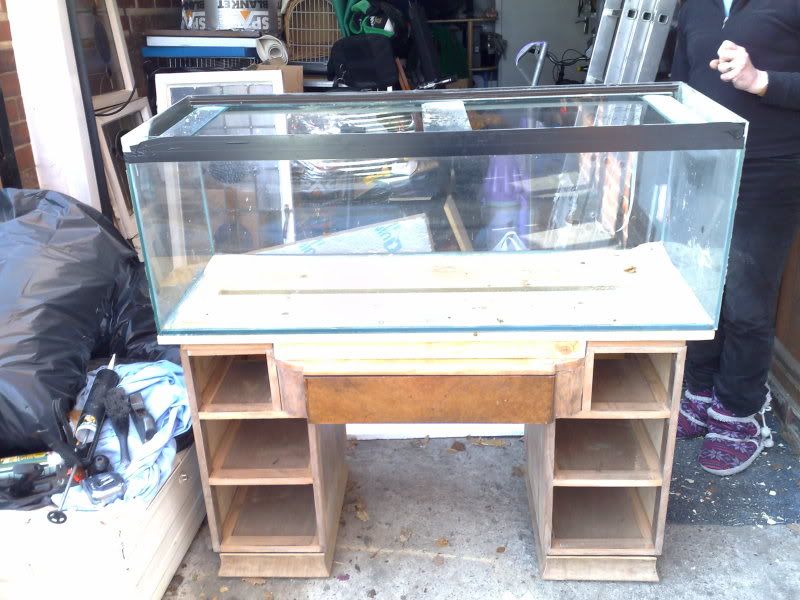 I popped into a new large specialist fish shop in my town and found an incredible piece of bogwood, it cost me £50. Its about 3.5ft x 1ftby 2 ft tall. I am planning on using the top bit for them to bask on, which pokes right out the top of the tank. To stop them escaping i am planning on building a wood and plexiglass surround to prevent any escapes,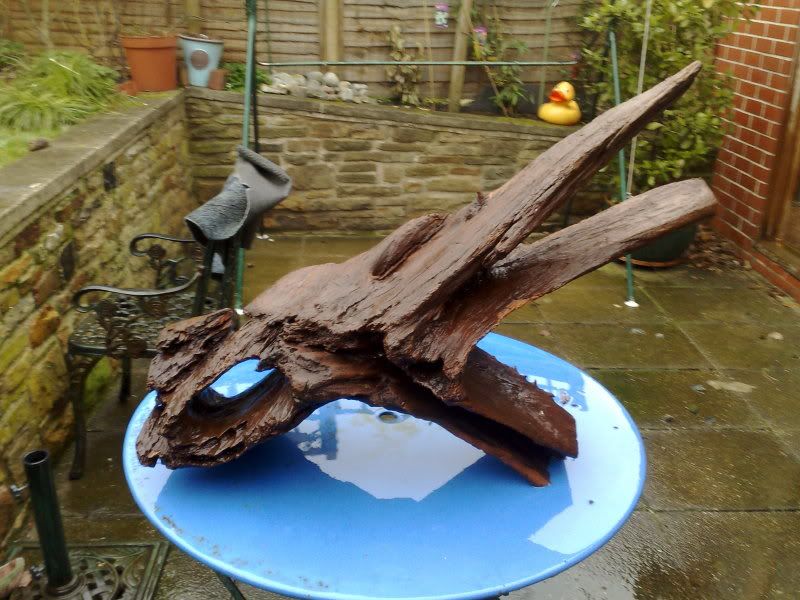 I have the wood in the tank with the filter running to remove any impurities, tannins etc and make sure it is clean for my guys later in the week, is there anything else I should worry about or do before I put them in? It looks like it is taking over the whole tank, but I can assure you this is as it is just floating around and I have not yet fitted it in yet..
I was trying to get this all in, but I have had to go work in the Scottish Highlands, so the plan has been delayed.
So i placed the guys in the tank with some basic stuff, I have a superfish aqua pro 4 filter, which i got second hand, repti-glow compact UV light, tank heater etc. so they should be happy for the week or so whilst I am away (dont worry my housemate will be feeding and looking after them)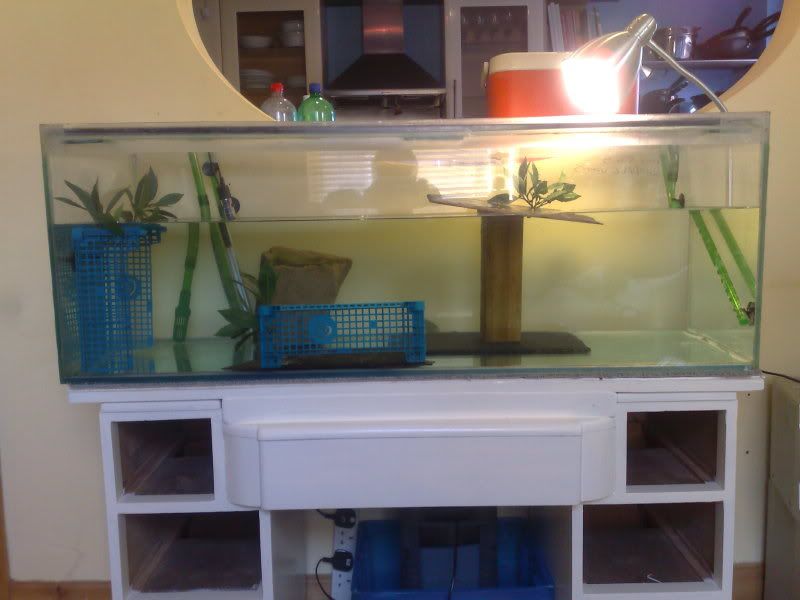 you can just see the filter underneath the tank in a plastic box to collect any 'spare' water haha.
Slate basking area,
My next plan is to customise that piece of bog wood so that I am able to fit it in the tank without reducing to much swimming area, and utilise the top for a basking area. I am thinking of using sand as a substrate (have read into it)
Eventually..... I am planning on planting some turtle friendly plants.......... (maybe a waste of money) and adding some fish (guppies etc) as i have another 10g tank that i might use to breed guppies and grow plants in.
All advice welcomed....